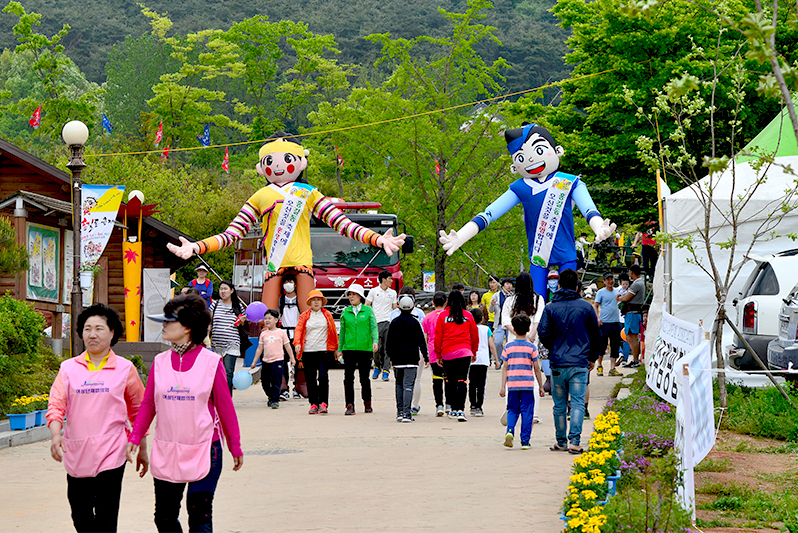 Eco-friendly city! The beautiful village, Jangseong!
We would like to celebrate with you [the 12th Jangseong Hong Gildong Festival], which will be held around the clear waters of Hwangryong River as the heart of Youngsan River and the 2km stretch of colorful flowers.
There will be various experience programs such as rafting, duck boat riding, catching fishes, riding streetcar, tanks, and armored car, Shooting Hong Gildong bow, etc., which everybody can enjoy and join, including a live concert featuring popular singing artists. The Jangseong Hong Gildong Festival -- full of dreams, romance, and happiness! Make beautiful memories with your loved ones.
Place: Hong Gildong Theme Park, Riverside of Hwangryong River, Public Stadium
Event Program
Event Program
Location
Events
Description
Hong Gildong Theme Park
Side-event
Traditional musical instrument performance at Hong Gildong's Birthplace, Reproduction of figure of Hong Gildong, Exhibition of Hong Gildong's history
Experience
Folk playing at Birthplace (Tuho, Somang Tujeon, Chaegi-chagi, etc.), Den experience, Traditional Bow Shooting,
Clothing of Hong Gildong and mountain bandit clothing, Wooden sword playing, Carrying an A-frame carrier, Traditional tightrope dancing
Sales
Local food restaurants
Public Stadium , Hwangryong Riverside
Side-event
Face painting, Hong Gildong mask figure, riverside street concert of Hwangryong River, pierrot magic balloon
Charity teahouse, family health shop
Experience
Hong Gildong character making (3 kinds: soap, plaster, inlaid work), rubbed copy of Hong Gildong, making forest friends, waterway experience to Yuldo-Guk, placing a wish to the legs of Gildong (exhibit last year's wishes)
Traditional fishing for children, duck boats and rafting, riding a cow cart, rural animal farm,
Catching fishes of Hwangryong River, Hwangryong River fountain tunnel, electric car, forest experience of national park
Hong Gildong amusement park, Chukryeong Mountain cypress experience, magic soap bubble, experience on seeking magic.
Exhibition
Riverside pictorial poem contest, Hong Gildong character products, ecology center of Hwangryong River, Jangseong wildlife center,
excellent Jangseong photo exhibition
Sales
Local food restaurants (foods for children, etc.), exotic foreign foods by multi-cultural families, eco-friendly agricultural and specialties
MIlitary Park
Experience
Yuldo-Guk barracks experience (riding tanks, exhibition of weapon and military equipment, gas mask experience, etc.)
Wearing of military uniforms for children, tank operation and demonstration of floating bridge
※ Event schedule is subject to change.
Shuttle service
Operating period: during the festival
Operating hours: 09:30 ~ 21:00
Interval: 15 minutes
Operation course (circular): Public terminal→County Office→Public Station→Culture Center→Pilam Seowon parking lot→Hwangryung Branch School→Hong Gildong Theme Park→empty tomb of Park Sooryang